Biografia Edit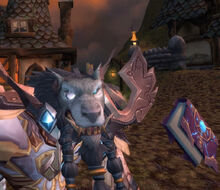 Filho de pai guillneano Wharthæn Kitzbühel (morto em combate) e de mãe ventobravoense Ysaure Kitzbühel (morta em combate), irmão gêmeo de Wolfbite, worgen druida de gadanho.
Anteriormente, junto com Wolfbite fomos mordidos por um worgen, antes humano amaldiçoado por um Dentessangue de surpresa, e e somos transformados em worgens selvagens por isso, inicialmente. Mas, graças ao elfo druida Tarlen das Selvas, que concede o Poço da Tranquilidade para que as almas dominem as feras, que não dominem as almas. Assim somos worgens mais calmos. <<em construção>>
Aparência
Edit
Wollfang, na forma humana, é ruivo claro e tem olhos azuis, barbudo e possui tranças enormes. Geralmente usa vestes de tecido ou de placas. Muitas vezes ele carrega um livro roxo chamado Mer'yeen, que vem do darnassiano, livro arcano.
Logo mais tarde entre preconceitos e aceitações, o worgen aceita do que , tanto a minha forma humana tanto a bestial.
Relacionamento
Edit
é casado com uma esposa chamada Zelyel Nailo Kitzbühel, a worgenin caçadora de worgens selvagens.
Ad blocker interference detected!
Wikia is a free-to-use site that makes money from advertising. We have a modified experience for viewers using ad blockers

Wikia is not accessible if you've made further modifications. Remove the custom ad blocker rule(s) and the page will load as expected.